Great America Networks Conferencing announces growth and expansion numbers. They continue to attract new clients due to their excellent quality at affordable prices. They also announce their new products that have launched recently and what is in the research and development phase.
Lemont, IL (PRWEB) June 26, 2007 -- Revenue numbers and minute totals continue to increase at a record-breaking pace during the 1st half of fiscal year 2007. The organization has grown their overall monthly revenue by a factor of 120% and achieved monthly minute growth of 90% since January of 2007. These numbers are continuing to increase on a monthly basis despite the continual price erosion occurring in the conferencing industry as a whole. President of the organization, Reno Provine states, "While other providers sign up new accounts at a higher overall per minute rate, they then have to deal with other companies continuing to attack their base of accounts and enticing them with a significantly lower per minute rate. When this happens, they must either reduce their rate, or in most instances lose the account entirely because their client feels cheated." The growth has led to the formal budgeting of their next set of expansion ports that will be finalized over the next 60-90 days.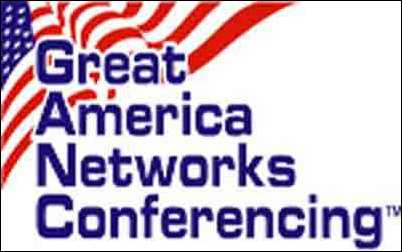 When asked what the key factors are that attribute to the current growth patterns for the organization, Reno Provine, President of Great America Networks Conferencing replied, "Our clients are finding that our organization is 100% focused on providing them with the greatest conferencing experience at the best value. Our typical client saves 60% on web and audio calls with us. They also see a significant increase in the level of service that they receive at the same time. It's a significant win-win for everyone involved. Our firm has the highest quality fully redundant bridging facilities with no VOIP circuits. All calls are guaranteed to sound perfect. Unlike other vendors, we don't hide fees like minimum conference charges, bait and switch rates, and hidden per call or user fees. We provide them an invoice that is detailed, yet simple to understand."
Great America Networks Conferencing has also released a number of new products and services in 2007 that improve the business conferencing experience while lowering costs, such as Audio Streaming, Integrated Audio and Web Conferencing, Virtual World Services in Second Life, Podcasting, and much more. Future products in development are collaboration applications for wireless devices, High-Definition Video Conferencing Solutions, and an expanding International presence.
For additional information or a sample copy, Contact: Joanne Davis at 312-432-5313.
Great America Networks Conferencing is a premiere provider of audio, video, and web collaboration services at affordable prices. They serve clients across the globe, and have offices in Chicago Illinois, Los Angeles California, Sacramento California and Minneapolis Minnesota. Their website is at www.ganconference.com. The company was founded in 2005 by Reno Provine and Eric Brackett.
###
Post Comment:
Trackback URL: http://www.prweb.com/pingpr.php/RmFsdS1aZXRhLVN1bW0tQ291cC1UaGlyLVplcm8=
Bookmark - Del.icio.us | Digg | Furl It | Spurl | RawSugar | Simpy | Shadows | Blink It | My Web
---